1.03.2007
Robots and Jobs
The following image was scanned from a science book for kids entitled "Mysteries and Marvels of Science", published by Usborne: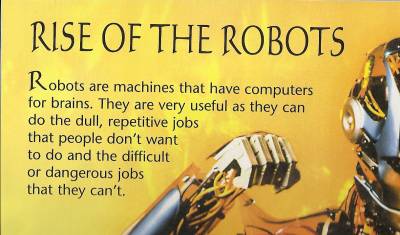 It demonstrates the conventional wisdom for robots in the workplace - that robots will take only the "repetitive" and "dangerous" jobs.
Of course, as robots get more and more capable, there will be nothing that boxes them into these specific job categories. Economic pressure will demand that robots fill all jobs as soon as they can do so. So, robots will replace every truck driver, construction worker, restaurant employee, retail clerk, real estate agent, pilot, doctor, etc. in the not-so-distant futue. And thus we will arrive at the
Robotic Nation
.
Comments:
A semi-truck will be cheaper to manufacture if it doesnt need to have to cater to the comforts of a human driver. It will be lighter, requiring less energy, and it could have a special arm to load and unload cargo from and to palletes manned by robotic workers: day or night 365 days a year.
The one thing retarding the development of robotic labor is the practically infinite supply of cheap foriegn labor.
If a political decision cut off Western companies from that cheap supply, then they would aggressively pursue the robot option.
Of course a political decision could also scuttle the new robotic economy at any time. Only with a massive welfare state will people accept massive job loss of any kind without revolution.
Post a Comment
<< Home
Archives
© Copyright 2005 by Marshall Brain
Atom RSS