4.29.2005
Robots in teams
Now, robots turn team players
From the article:
"the robots have been developed to enable them to work in groups or packs using distributed intelligence, with their actions in co-ordination to the response of other robots, much like the way social insects such ants or bees collaborating during nest-building or foraging.

Researchers have said that the robots to be presented at the RoboBusiness robotics conference in Cambridge and Massachusetts, this May, would be applicable for a variety of military and civilian applications, and can evolve problem solving strategies in a much more significant manner compared to scenarios where each robot acts independently."
The robots are developed by
Frontline Robotics
.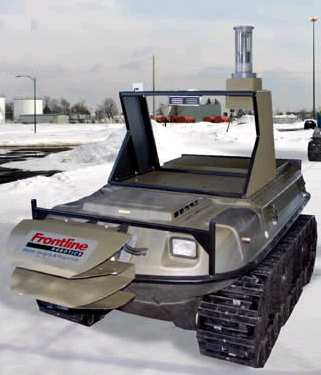 From the web site:
Our first GRUNT implementation, pictured below, is a custom built, 300-lb., 4-foot long, 4-wheel, skid-steer, electric platform that can turn in place 720 degrees in one second and achieve speeds of 30 km/hr. It is fully equipped with computing, navigation and anomaly detection sensors necessary to be part of a collaborative security mission.
So these are 300 pound insects.
See also
Robotic police
Archives
© Copyright 2005 by Marshall Brain
Atom RSS